selected group exhibitions
2019
More is More
BOOM gallery, Newtown
More is More explores different approaches to collage, highlighting the artists' patterns of collecting, arranging and rearranging. More is More speaks to the process of collage; artists are always looking for new source material, digging through op shops and dusty vintage stores, adding to their collections, spending time cutting images by hand, working out compositions, thinking, looking and finally gluing. The process is not linear; and when collecting, more is always more, whereas collage outcomes are often an act in restraint, less is more.
Learn more about this exhibition and option to purchase work by heading to the Boom website here, or click on each image to be taken to Boom's online catalogue.
Photography credit: Barnaby and Wilson Photography
Lucy James
Holly Leonardson
Tai Snaith
Jade Elford
Emily Besser
Kieran Madden
Dylan Foley
Meredith Earls
and sculpture by Alichia van Rhijn
2017
|not|fair|
14 James st, Windsor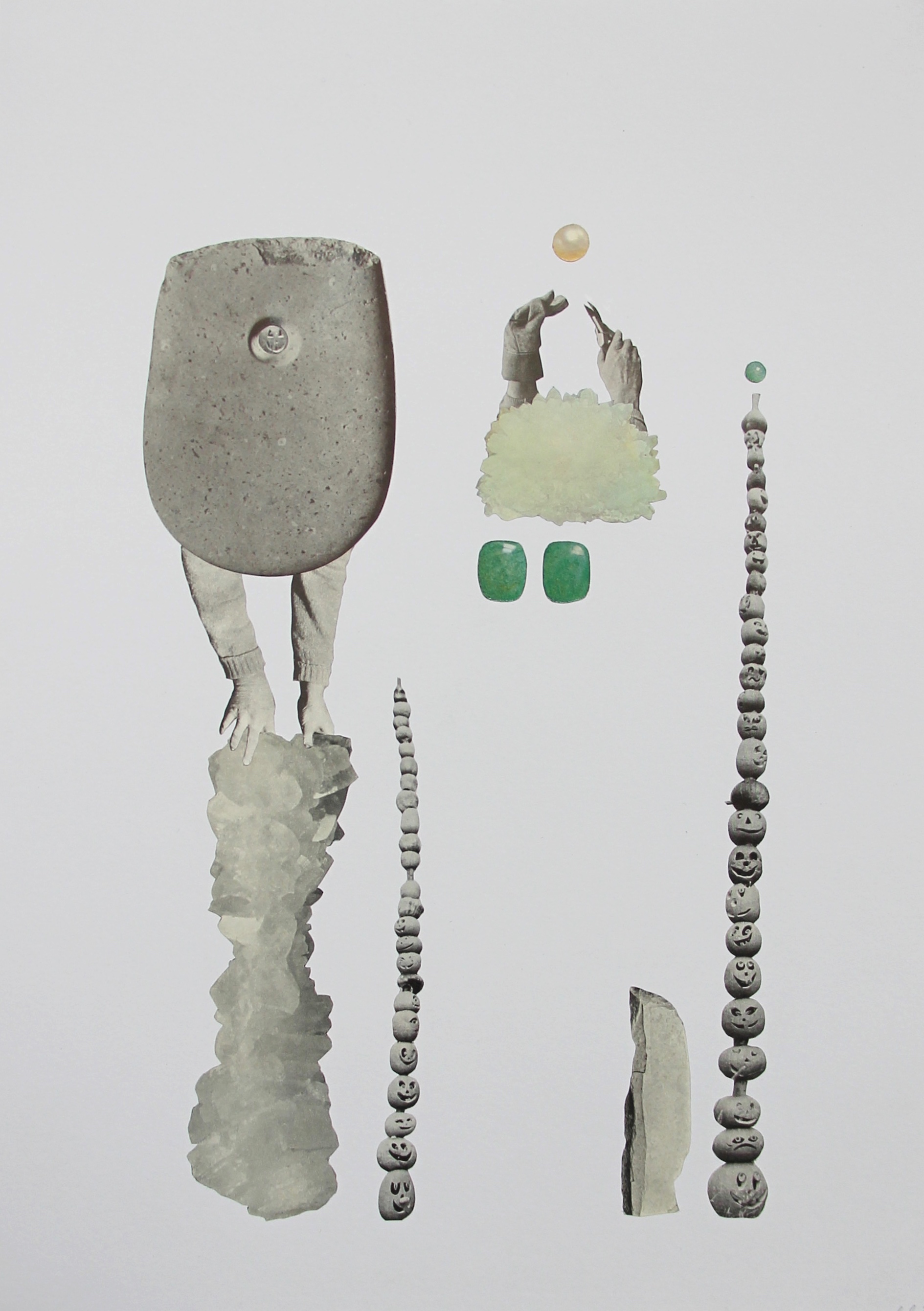 2013
chicks with knives!!!
Stockroom Gallery, Kyneton
Slicing and dicing their way through historical landscapes and cultural detritus, deftly decapitating and re­animating hybrid creatures, the blade-wielding dexterity of these fabulous artists cartwheels out beyond the northern reaches and lands smack bang in Kyneton town as Chicks With Knives!!!
A world of fractured form and ruptured realities is spun into shape in frozen moments. Colour and composition conspire in temporary control of chaos.
Drawing from a pool of highly talented female artists known for their forays into jewellery, printmaking, sculp­ture, street art, painting and collage, this is going to be an exciting event full of life and energy.
2013
the cuckoo's nest
Linden Contemporary Art Centre
Men With Glasses was shown as part of The Cuckoos Nest, a group show curated by Tai Snaith, as part of the Innovators program for Linden Centre for Contemporary Arts.
In most bird species, the female builds and feathers the nest before laying her eggs. In the case of The Cuckoo, however, she simply lays her egg's in another bird's nest. This idea of hijacking someone else's space is in some ways similar to what we do as artists. We make personal objects, images and ideas and they often end up in someone else's home and life. In The Cuckoo's Nest a group of seven female artists will be treating Linden a little like a display home for a new way of living with art.
– Curator Tai Snaith
Men With Glasses - the antiquated online dating service you never thought you'd need, analogue style. A collection, in the thousands, of heads categorised into looks, occupation, feelings, you name it. This collection delves into notions of obsession, hoarding, stalking. This is husband hunting at its darkest. Find your man. Men who wear glasses are often associated with intelligence, high-powered jobs and bookish good looks. Who doesn't love a man who reads?
This collection visually references the study of entomology, jovially suggesting 'all men are insects'. This opens up discussion about the role of men in women's lives in the past and in the current climate and how we categorise people in general. Are all men liars, as Sam de Brito tells us every weekend in his Age column? Are they all bastards? Why do we all want one so badly? Is it still important to 'have' a man? If you already have a man, do you have him or does he have you?
This gem collection weaves into the idea of The Cuckoo's Nest, creating a dark and dirty love nest of all the potential suitors a girl could, would, should have. Part psychopath cave, part museum archive, these men have been are preserved based on their one common visual thread: glasses.
2009
lingua natura
c3 Contemporary Art Space, Abbotsford Convent
An ensemble cast of practitioners explore various ways in which we understand nature. With jewellery, sound recordings, and sculptures; will architecture, botanic illustration and land art; with paper collage, digital imagery and more, this exhibition allows for a variety of voices to speak collectively. Artist and curator Kent Wilson, a fine art postgrad, has drawn from the work of emerging Melbourne artists who use a wide spectrum of media, including jewellery, sound, ceramics, digital and land art, to bring together with work from the fields of education, architecture, botanic illustration and environmental science.
Stemming – like a plant – from the idea that maybe nature has created us as its own voice, its way of expressing itself, to itself, 'lingua natura' is searching for the language of nature. If we humans are the mouthpiece of nature then it might be evident, in some way, in a semi-random collection of expressive forms, drawn from a semi-random collection of people.
The works on display by the exhibitors is both a collection of wonderful, creative and insightful singular pieces of art, as well as a cross-firing of relations and new meanings between them collectively. Without curatorial intention, the works are all imbued with a sense of focused attention having been put into them, as well as a compelling sense of beauty.