2015
BONUS CARD
my tribe is your tribe and your tribe is mine
La Trobe Visual Arts Centre, Bendigo
BONUS CARD is the collaborative partnership of husband and wife artist-duo Kent Wilson and Lucy James. Exploring ideas of primitivism, tribalism and ceremony, BONUS CARD weaves the contemporary and the archaic into mashed analogue interference. With equal parts contempt and respect for materials, tradition and privilege, BONUS CARD forges pseudo-cultural icons from mixed media and ambiguous intent.
In their latest exhibition, BONUS CARD forges its own symbols in search of the unifying connection between our history and our present. Carved from raw local materials, these symbols are inscribed with a desire to communicate. Fertility lies at the heart of the exhibition – the male and female rise from the lava flows of central Victoria in idealised forms.
2014
BONUS CARD
loom of the land
Craft, Melbourne
In their first exhibition 'Loom of the Land', BONUS CARD present a collection of totems that are drawn from an unnamed, unclassified and yet familiar sub-cultural world that lies hidden within our contemporary social perspectives.
Taking a similar figurative form to oceanic and African tribal masks, their totems merge with contemporary western figurative elements, organic forms and geometric structures.
READ interview with BONUS CARD
Exhibition documentation by Anita Beaney
2012
The Lost Voyage of Captain Foley and the HMS Laburnum
Craft, Melbourne
The Lost Voyage of Captain Foley and the HMS Laburnum taps into the mysteries of 'under the sea' and 'into the woods' and explores and exploits the unknown, the uncanny and the unbelievable.
Artists Anna Davern and Lucy James combine their shared obsessions of collage, composition and storytelling to present a tongue-in-cheek perspective of colonialism and the 18th Century fascination for the bizarre creatures that were brought back from the strange new continent of Australia.
Referencing the sea and the voyages taken by these creatures, Davern and James propose an alternative result of these expeditions: a ship loaded with live specimens is overwhelmed by a large mythological wave which changes things: koalas find homes in over-sized seashells; sea bass snuggle in wallaby pouches; hybridised creatures gain super powers from their new environments, and animals gain the use of opposable thumbs.
This coalescing and hybridisation of the creatures reflects the process of collaboration between the two artists. Long-time fans of each other's work, Davern and James, with The Lost Voyage of Captain Foley and the HMS Laburnum, push the process of collaboration to inform and extend their own separate practices. This is not an exhibition of two artists' work but an exhibition of work by the blended entity of the collaborative process.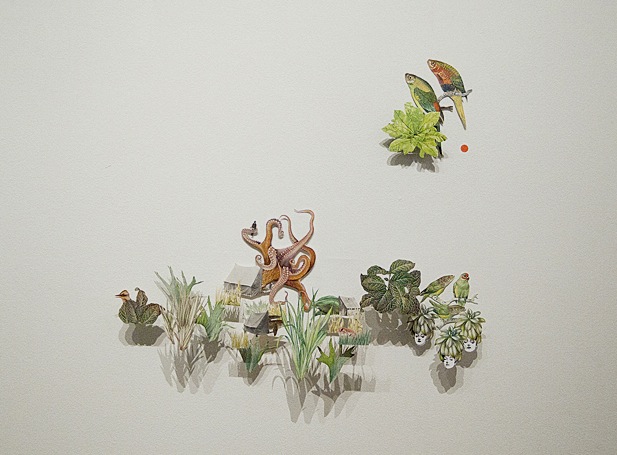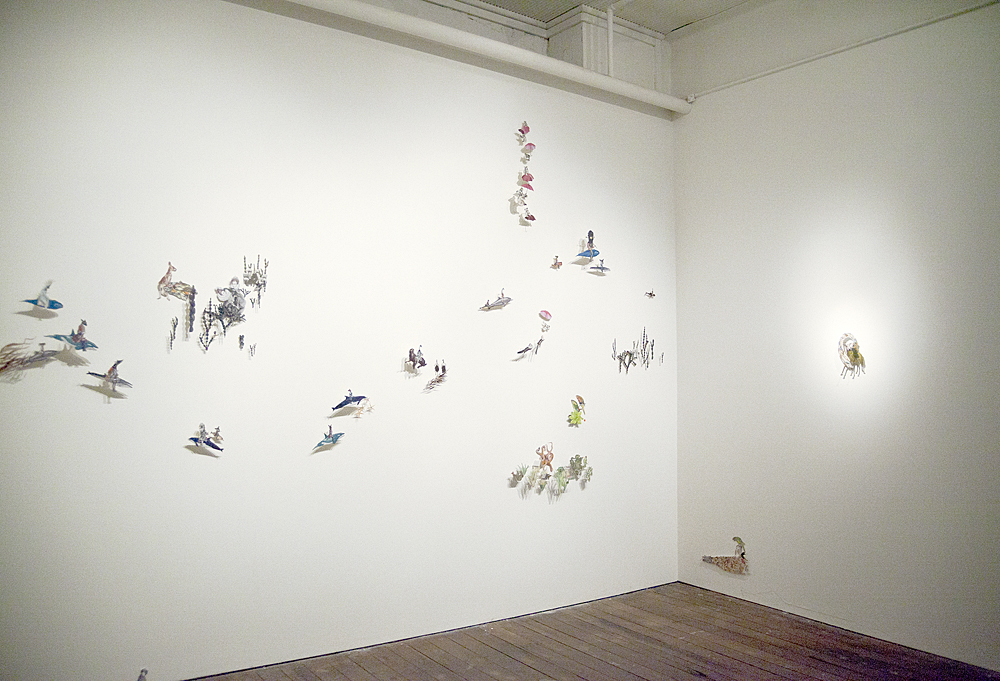 2012
Why I Eyes Ya
Craft, Melbourne
Why I eyes ya' is the brainchild of collaborating artists Lucy James and Tai Snaith. Their works on paper, collaged from cat books and magazines create a new breed of feline, from the ridiculously cute… to plain ridiculous. Succumbing to a crazy cat lady-like obsession, Snaith and James have created a wonderland of collage, showcasing their dedication to precision that features in both their individual practices while pushing the limits of cute and grotesque.
Titled from the infamous YouTube cat clip Oh Long Johnson in which a cat filmed in a lounge room exudes noises that sound remarkably like human speech, saying 'Oh my dog… oh long Johnson… oh Don Piano… Why I eyes ya … all the live-long day …' to canned audience laughter. The project is inspired by the multitude of viral cat videos and the bizarre obsession that humans have with cats, delving into this obsession allows both the artists and audience the rare experience to explore the boundaries of darkness and the extent of obsession.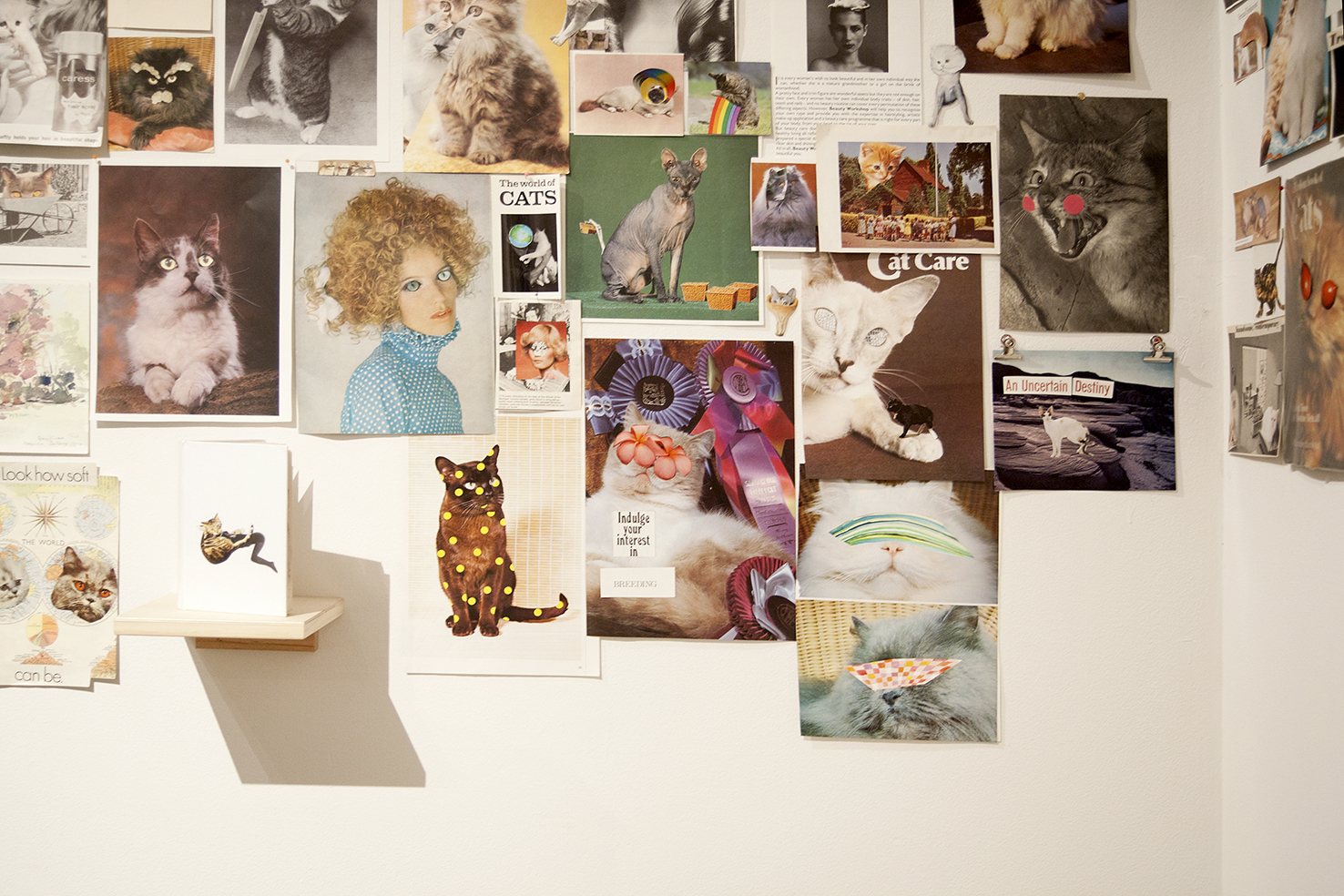 2012
copyshop
c3 Contemporary Art Space, Abbotsford Convent
Reflecting on c3's interest in a group oriented, activity based collaborative processes, the COPY-SHOP project involved 8 artists working in partnerships (Lucy James and Carmel Seymour) as 'employees' of a staged photocopy shop within the gallery.
The selected artists all worked in quite different ways yet were paired on the basis of a certain affinity between their practices, choosing partnerships that produced exciting and unexpected results.
A result of these collaborations was a limited-edition archival quality print edition. The COPY-SHOP itself consisted of a studio working area for the artists complete with a museum grade archival printer and a showroom where the resultant prints were displayed and sold.
The visible inclusion of the artists themselves (making work in public) called attention to the ambiguous commerce of the art world, where what is being purchased is not simply an object; but a connection to a set of ideas, to the authorship of those ideas and ultimately a relation to the life that they came from.
This work was presented as a companion piece to c3's Art Fair Project Space.